*** 2001 OctoberFAST - Minneapolis, MN. ***




SpeedMerchant Top Qualifies and Wins Both 1/12th Stock and Masters classes at OctoberFAST.



This is the 1st leg of the Triple Crown of Road Racing, and for many racers, the first time on carpet this season.

In Stock Class Mark Adams continues his winning ways after already winning the ROAR Nats in March by posting the quickest time in every round of qualifying and taking the A-main win.

Lets hear what Mark had to say...
'My Rev.3 was great all weekend long. As the traction changed my car stayed very consistant and easy to drive.'

'I can depend on My Rev.3 to be quick and consistant every time I put it on the track.'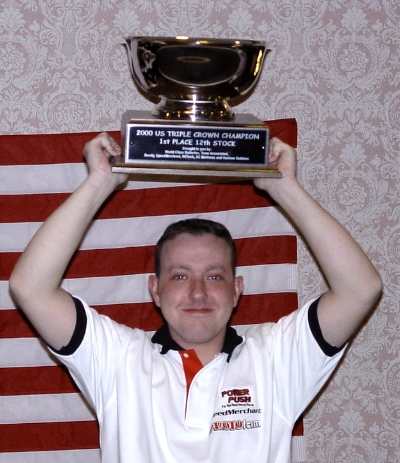 Mark was joined by five other Rev.3's in the A-main for a total of 6 out of 10 A-main cars.

SpeedMerchant would like to congratulate Aaron Buran, Scott Jakes, Rich Martsolf, Troy Schroeder, and Bruce Carbone for their A-main runs.

Of special note in the Stock class A-main was Troy Schroeder.

Troy who owns and operates Fantom Racing Motors ran 12th scale for the 1st time ever at the OctoberFAST race.

'I actually got a Rev.3 last season, but just never had any time to run it.
I'm usually so busy at races taking care of Team Fantom drivers I just don't have time to race myself.
But, this season I told myself I'm definitely going to race as well as work.' 'I only got a chance to use my Rev.3 twice in practice but it felt good right away.
I copied the team guys set-ups and the car was flat dialed.
I still don't believe I qualified for the A-main in my very 1st 12th scale race.
I can't wait for the rest of the season.'-Troy Schroeder

In Masters class Team SpeedMerchant's newest member Eli Ezrow Top Qualified and Won the 1/12th A-main.

Eli actually switched to a Rev.3 during qualifying at OctoberFAST

'I was struggling with my current chassis and had planned on running a Rev.3 next season, so I decided to go for it a little sooner.'
'I only got about 3 or 4 laps of practice on the track inbetween the 2nd and 3rd rounds of qualifying.
My 1st full run with the car was the 3rd round of qualifying at OctoberFAST'. I TQ'd my very 1st run with my Rev.3!!!
The car was quicker through the corners, had more steering, and was easier to drive than my other car.'-Eli Ezrow

Eli went on to TQ the next round of qualifying and then take the A-Main Win over some very fast drivers. Congratulations once again to Mark and Eli for their outstanding performances.